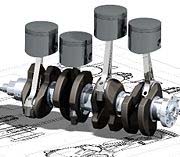 Computer-aided design (CAD) is the use of computer technology to aid in the design and especially the drafting drawings of a part or product, including entire buildings.
How it works
Edit
It is both a visual drawing and symbol-based method of communication whose conventions are particular to a specific technical field.
CAD is mainly used for detailed engineering of 3D models and/or 2D drawings of physical components, but it is also used throughout the engineering process from conceptual design and layout of products, through strength and dynamic analysis of assemblies to definition of manufacturing methods of components.
Drafting can be done in two dimensions and three dimensions.
Modern CAD packages can also frequently allow rotations in three dimensions, allowing viewing of a designed object from any desired angle, even from the inside looking out.
CAD is used in the design of tools and machinery used in the manufacture of components, and in the drafting and design of all types of buildings, from small residential types (houses) to the largest commercial and industrial structures (hospitals and factories).
Modelling
Edit
Some CAD software is capable of dynamic mathematic modeling.
It gives benefits such as lower product development costs and a greatly shortened design cycle.
Today CAD is one of the main tools used in designing products and architecture and also in the field of engineering because of cutting edge technologies that have come out in the last few years.
CAD enables designers to lay out and develop work on screen, print it out and save it for future editing, saving time on their drawings.
Community content is available under
CC-BY-SA
unless otherwise noted.