Jurassic World: Dominion Dominates Fandom Wikis - The Loop
Play Sound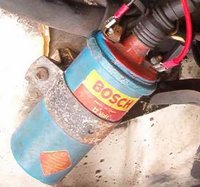 An ignition coil (also called a spark coil) is an induction coil in an automobile's ignition system.
How it works
[
]
This specific form of the autotransformer, together with the contact breaker, converts low voltage from a storage battery's 12 volts into thousands of volts, (high voltage) required by spark plugs in an internal combustion engine.
Improvement
[
]
In modern ignition systems each spark plug has its individual coil, sitting right on top of it, in a so called Direct Ignition (DI) module.
Early history
[
]
The disruptive discharge Tesla coil [1] is an early predecessor of the "ignition coil" in the ignition system. Tesla also gained Template:US patent, "Electrical Igniter for Gas Engines", on August 16, 1898. It used the principles of the ignition coil used today in automobiles. A. Atwater Kent [2], in 1921, patented the modern form of the ignition coil.
Related coils
[
]
A Oudin coil [3] is a disruptive discharge coil.
Patents
[
]
Template:US patenthttp

://patft.uspto.gov/netacgi/nph-Parser?Sect1=PTO1&Sect2=HITOFF&d=PALL&p=1&u=/netahtml/srchnum.htm&r=1&f=G&l=50&s1=1391256.WKU.&OS=PN/1391256&RS=PN/1391256

File:Igncoil.jpg

Template:US patent

- Induction coil structure - Arthur Atwater Kent - 1921

Template:US patent

- Induction coil - Arthur Atwater Kent - 1923

Template:US patent

- Induction coil - Arthur Atwater Kent - 1923

Template:US patent

- Ignition coil - Arthur Atwater Kent - 1926

Template:US patent

- Ignition system - Ernst Alexanderson [4]- 1929