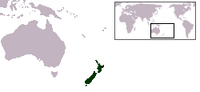 New Zealand is a country in the south-western Pacific Ocean comprising two large islands (the North Island and the South Island) and numerous smaller islands.
History
[
]
The indigenous Māori named New Zealand Aotearoa, which is usually translated into English as The Land of the Long White Cloud.
The Realm of New Zealand also includes the Cook Islands and Niue, which are self-governing but in free association; Tokelau; and the Ross Dependency (New Zealand's territorial claim in Antarctica).
The jet boat was invented in New Zealand.
Population
[
]
It is a country of just over 4 million people.
Location
[
]
New Zealand is notable for its geographic isolation, being separated from Australia to the northwest by the Tasman Sea, approximately 2000 kilometres (1250 miles) across. Its closest neighbours to the north are New Caledonia, Fiji and Tonga.